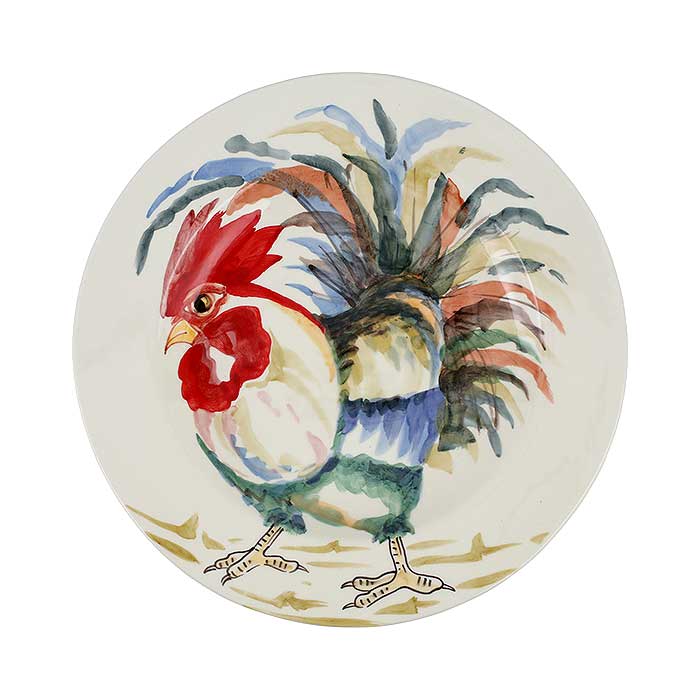 Vietri Gallo Rimmed Round Platter
Regular price
Sale price
$184.00
Unit price
per
Sale
Sold out
Details
DETAILS
The rooster is a symbol of prosperity and positivity in Italy, and the watercolor brushstrokes and vibrant hues of the Gallo Rimmed Round Platter will invite that good fortune and Italian optimism into your home.  
15.75"Dia.
Dishwasher Safe - We recommend using a non-fragrant/non-citrus, non-abrasive detergent on the air dry cycle (or econo heat when available). It is recommended to place the dishes so they avoid touching during the high pressure dishwashing and as such we recommend you do not overload the dishwasher. All dishes should be dried thoroughly before being stored.

Terra Bianca - A white earthenware clay that is often used for handpainted designs as it provides the ideal canvas for storytelling, allowing colors to truly come to life.
Note: After a tragic bombing in Ukraine, one of the last surviving artifacts was a ceramic rooster in the kitchen window of a home in the village of Borodyanka. Today, the rooster has become a symbol of hope worldwide. In 2022, VIETRI pledges to donate 10% of all Gallo proceeds to UNICEF in support of Ukrainian relief efforts.